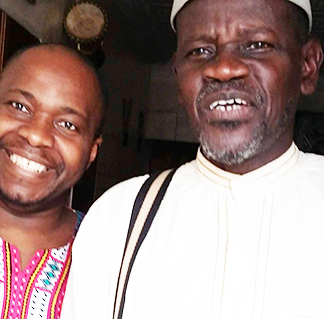 Francois KEBE (seen here on the right with Malcolm Ngouala) is a credit union activist based in Louga, North Senegal, West Africa. He wishes to launch a very exciting project - the first French speaking Development Programme, initially in Senegal, but with the aim of spreading DE and credit unions throughout the African French speaking countries.
This specific appeal is to raise dedicated funds to enable Kebe to attend the Asian Confederation Development Educator programme to acquire and benefit from the special skills and expertise this programme delivers; this particular course has been chosen as it offers knowledge of practical individual advocacy and community mobilisation in new territories, as well as mentored post graduate project delivery.
Since retiring as an English Teacher, Kebe has spent the last few years raising awareness of credit unions, locally called "mutuelles" and encouraging his English Teacher colleagues to become active members.
In 2018, he organised a Financial Education Workshop for 100 local English Teachers, together with Malcolm Ngouala, DEUK, ADE. Malcolm's involvement in this project won him the Joe Biden Award for DE from Europe in 2018; he made many personal sacrifices of time, income and finances to be the joint facilitator of this workshop. Malcolm is also a Pell Scholar.
About 70% of the workshop participants had never heard of nor joined a credit union, but were energised and excited about the ethos of credit mutuelles and during the course became aware of their existence in their towns, committing themselves to spreading the word to other teachers and to their pupils. It's estimated there are about 2,000 teachers living in Louga, many of whom are not fluent English speakers but speak indigenous languages and French.
Graduating as a Development Educator will be invaluable for Kebe, enabling him to take this project forward, reaching more teachers in Louga, hopefully throughout Senegal and further afield, bringing economic empowerment to the French speaking countries in Africa.
To help Kebe, please donate to the "KEBE Fund" of the ICULDE Foundation by clicking on the following link :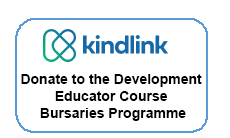 As Kebe is a retired teacher living on a minimal pension, in addition to raising sufficient funds to cover the ACDE course fees, it will also be necessary to cover his travel costs and other expenses; it's a big ask we know but with your support plus funds raised from other sources such as profits from the 2019 Awards Dinner, we are determined to enable him to attend ACDE one way or another
The 2018 Teachers Financial Education Workshop was held in Louga, Senegal at the
Centre Regional de Formation des Personnels de Education - CRFPE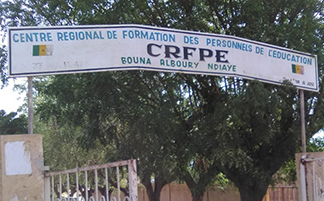 Graduation day - the tired but enthused new Credit Mutuelle advocates