Donate to the Development Educator Course Bursaries Programme
The ICULD&E Foundation is about "credit union leaders of today building those of tomorrow" – choose your donation amount below to help us give out more "Pell Scholarship" bursaries to those with potential (but lacking the financial resources) to spread the unique credit union difference - bringing its benefits to all. Thank you!
Please donate to the 'KEBE Fund' to raise dedicated funds to enable Francois KEBE (seen here on the right with Malcolm Ngouala) to attend the Asian Confederation Development Educator (ACDE) programme.
Kebe, a credit union activist based in Louga, North Senegal, West Africa
. wants to launch a very exciting project -
the first French speaking Development Programme
, initially in Senegal. As a graduate of ACDE, he will have acquired the special skills and expertise this programme delivers.
Click here for the full story
As Kebe is a retired teacher living on a minimal pension, funds in addition to the Course fee will be needed to cover his travel costs, etc. from Senegal to Thailand. It's a big ask we know but with your support plus funds raised from other sources such as profits from the 2019 Awards Dinner, the ICULDEF is determined to enable him to attend ACDE one way or another.
Thanking you in anticipation of your generous support.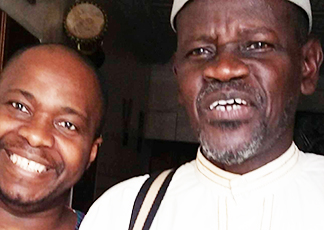 Francois KEBE (on the right) together with Malcolm Ngouala